Brie Larson delights fans with a new photo!
The actress took to Instagram and shared a new photo of herself as Captain Marvel following the release of her new movie.
Brie Larson Turns Into Carol Danvers For 'The Marvels'
The picture saw Larson taking the picture herself. She appeared to be holding the camera with both of her hands, which she stretched away from her body to get the best angle.
The 34-year-old tilted her head to the side while gazing into the lens.
Brie Larson Shares Behind-The-Scenes Video Of 'The Marvels'
The next slide showed a clip of Larson acting as her character, Carol Danvers, during the filming of the new superhero film based on Marvel Comics.
Larson captioned the share, "We're so back."
She added, "Can't wait for you to see #TheMarvels this weekend! Get tickets now: Fandango.com/TheMarvels."
Fans Praise Brie Larson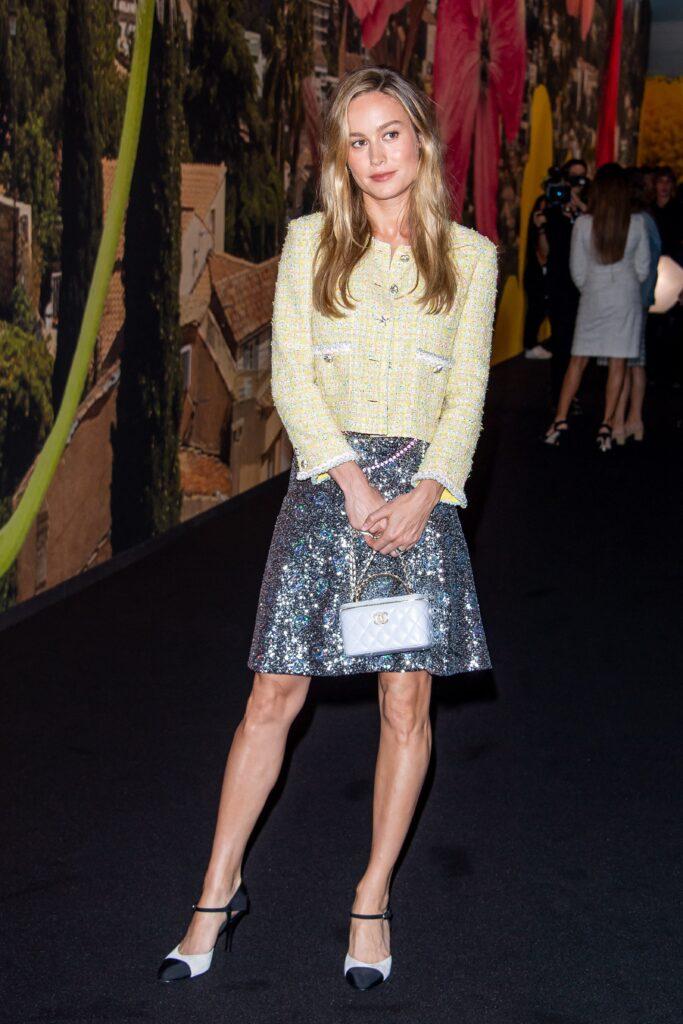 Larson's latest post has received widespread acclaim from her followers, amassing over 548,000 likes in just 12 hours. The actress has also been showered with adoration, accumulating more than 5,800 comments from her devoted fans.
"Brie, I will never get tired of thanking you for accepting the role, you are the best Captain Marvel I could ask for. I love you so much," wrote one person.
"Oh Captain, my Captain! I went to see it today. I stand by what I said in the first movie. You were born to play Carol Danvers. I love that character so much and in this movie in more than in the first one. The trio was hilarious and such a good combo. So proud of you. Keep shining," remarked another follower.
"OH YES YOU ARE!!! Thank you for this portrayal of Captain Marvel. I mean, I thought I was reading a living comic. Your nuances and expressions and body language. Phenomenal. I couldn't be prouder of you. THANK YOU for being with us. Holding our hands, the Carol Corps. CANT WAIT TO GO TOMORROW again with my husband," noted the third user.
"HI BRIE! We just watched The Marvels and it's just amazing! Thank you, Captain. Seeing this incredible team in action was the best experience we could have had this year! Your Brazilian fans are happy and proud! HIGHER FURTHER FASTER TOGETHER!" expressed the fourth commenter, while a different supporter added," I saw 'The Marvels' today and it was amazing it's the best MCU film since Endgame and my favorite film of the year and the best film of the year. Brie, you were amazing as always as Captain Marvel I loved every second of it. You were born to play Carol Danvers aka Captain Marvel."
New Superheroes Join Captain Marvel On 'The Marvels'
"The Marvels," a sequel to 2019's "Captain Marvel," marks a cinematic revolution, introducing a fresh team of superheroes to take the lead.
In this film, Captain Marvel (Larson), teams up with Ms. Marvel (Iman Vellani), and Captain Monica Rambeau (Teyonah Parris), as their powers become intricately intertwined on a cosmic level.
"It's going to be really fun, and I think it's going to be so powerful to see all these women on screen together! And off camera, we have so many cool women, people of color working on this movie, and they really just made it as personal a story as possible," said Vellani.
Together, the trio must synergize their individual powers to engage in epic battles, propelling the Marvel Cinematic Universe into uncharted territories.
"The Marvels" hits theaters today.
About Author