Last year, for Media Day, Jimmy Butler went viral for rocking some dreads. This year, it's a different look for the Miami Heat star and a shockingly hilarious one.
Is Butler just a funny guy who loves to keep everyone guessing what he'll do next, or did the Damian Lillard trade hit him where it hurts? Whatever the case, Butler is clearly in his "emo era," and NBA fans are HERE FOR IT!
Jimmy Butler Has Entered His "Emo Era"
Showing up with a complete emo look – straightened hair, black fingernails, and piercings in his lip, eyebrow, and nose – Butler shocked his teammates as well as fans because, of course, word got out quickly about his new look.
"I'm feeling this. I'm very emotional right now. This is my emo state, and I like this," Butler said. "This is me. This is how I've been feeling as of late."
He then explained that you "never know how I'm going to wake up in the morning."
"So this is how I feel today, and we'll see tomorrow," he continued. "Tomorrow, I might be in all yellow, who knows? You're lucky we didn't get to wear our black jerseys because I'm supposed to be in all black."
His teammate, Bam Adebayo, was stunned and said, "Ain't no way that's him. You all are [expletive] lying." He continued after laughing, "What is wrong with this man? No, man. That's not real. Oh my god, bro. I knew I should have worn a blonde fro. I'm going to start having fun in training camp."
Adebayo had trouble keeping it together during a photo shoot with Butler and teammate Tyler Herro. And his laughter was undoubtedly contagious!
NBA Fans Are Here For The Fun And Had Jokes Of Their Own To Share On Social Media
There is no lack of hilarious comments on social media regarding Butler's sudden new look.
From blaming losing in the Finals to the Lillard trade, everyone has something funny to add to this comical moment.
"Went from working at Foot Locker to Hot Topic," one person wrote in the comments of SportsCenter's Instagram post.
Another added, "That Dame trade got him losing his mind."
One fan noted how Adebayo is cracking up at Butler's new look during photos, saying, "I'm Bam right now. 😂😂😂" (Sidenote: We are ALL Bam right now!)
The Heat embraced the hilarious stunt by Butler by sharing a video on Instagram captioned, "Nobody does Media Day like Jimmy Butler does Media Day."
Many are chalking the new look up to Butler deep in his feelings, thanks to Lillard being traded to the Milwaukee Bucks instead of the Heat.
The Bucks Zone jumped into the comments to say, "Dame to MKE made bro go emo. 😭" Another person added, "He has a midlife crisis since we lost out on dame.😭😭😭" A Heat fan wrote, "Didn't get dame n now buckets is goin through an EMO phase. What an off-season for us."
Michelob Ultra added, "Have to respect the commitment to the bit."
Jimmy Butler Is Just A Funny Guy!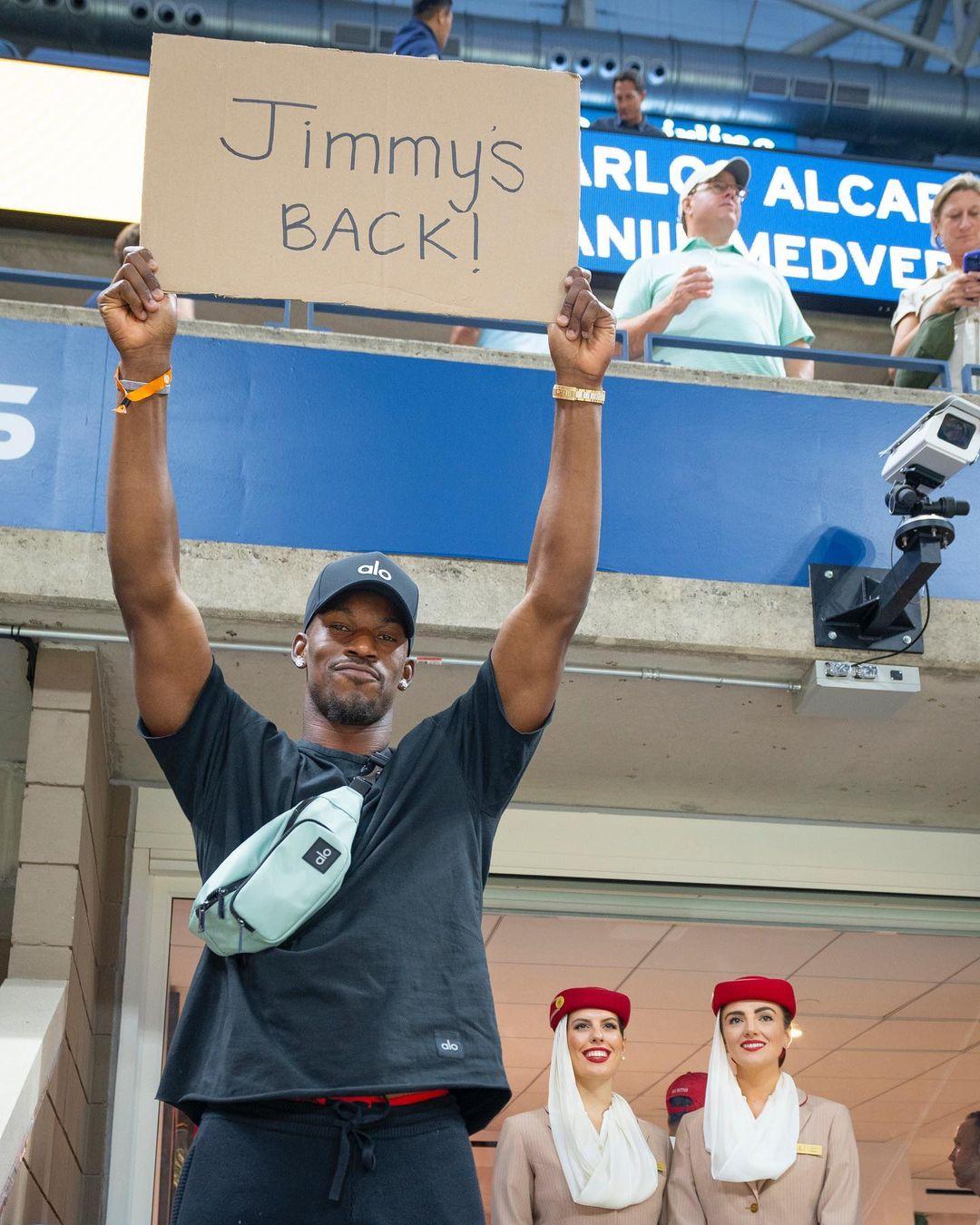 Butler is known for his wild sense of humor. After hearing about Lillard's trade to the Bucks, he shared his thoughts on the situation. Lillard voiced his desire to be traded to the Heat, which excited Butler, but then it didn't come to fruition.
Bleacher Report shared a video on their TikTok page of Butler's thoughts.
"Jimmy big mad 😂," one viewer wrote in the comments. Another added, "Somebody need to look into Jimmy's hairstylist 😂" (And boy, did that comment age well!)
About Author