"Love Story" singer and pop icon Taylor Swift broke the Internet yesterday after she was spotted hanging out with Donna Kelce, the mother of Kansas City Chiefs tight end and rumored boyfriend Travis Kelce, at Arrowhead Stadium for the game against the Chicago Bears.
Following the game, it seems a war has already begun amongst fans as many call out Brittany Mahomes, the wife of Patrick Mahomes, Kelce's teammate and close friend off the field.
Brittany Mahomes Receives Backlash From Fans, Being Compared To Taylor Swift
Following the game yesterday afternoon, Brittany Mahomes shared her fit to Instagram, with the caption, "15❤️" about her husband, Patrick Mahomes, who wears the number 15 on the field.
Many immediately flooded the comments section to call out the quarterback's wife, instantly bringing up Travis Kelce's rumored girlfriend and pop icon, Taylor Swift.
One fan's comment gained traction from others as they wrote, "Really trying to one-up T Swift 😂."
However, it did not seem this was the case, as Brittany Mahomes almost always posts photos to social media following a Chiefs game — but that hasn't stopped fans from attacking the mother of two in the comments section.
"where is the red?! Taylor [Swift] wore red," another seemingly said, throwing shade at Patrick Mahome's wife.
Others, however, wanted to have Brittany's back as she has been around for a long time. "you're so gorg!!" one fan wrote as another chimed in with, "This is the best hair and makeup combo I've seen on you 😍 stunning and glowing."
"IDC what anyone says you're the best spouse on the chiefs," another commented.
Did Brittany Mahomes Meet Taylor Swift?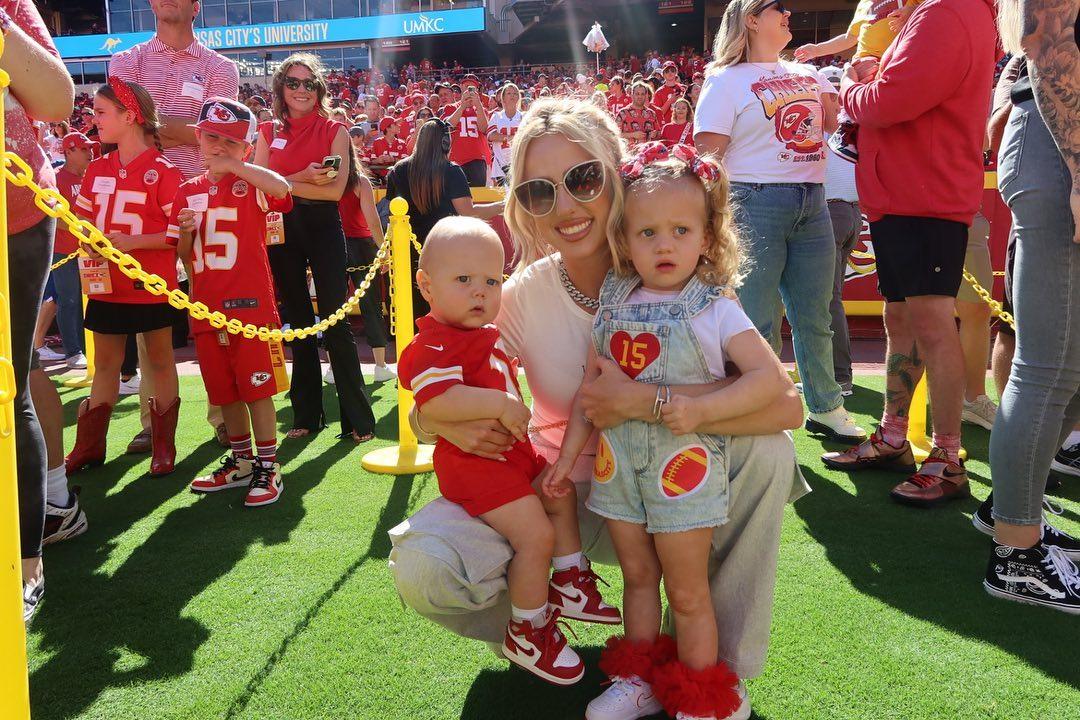 Others, of course, just wanted to know the tea, asking Brittany Mahomes if she met Taylor Swift.
"YOU'RE SO PRETTY!!!!! Did you meet Taylor?!" one user asked as another commented something similar, "Love the look! So football Sunday glam. Do your Q&A so we can ask if you met Taylor?"
As we reported yesterday, the "Love Story" singer was spotted hanging out with Donna Kelce, the mother of the Kansas City Chiefs tight end, at Arrowhead Stadium for the game against the Chicago Bears. The two have been chatting it up the entire fun, but social media exploded after Swift went nuts for Kelce following his touchdown.
Swift seemingly accepted Kelce's invite to Arrowhead. "I mean, I threw it out there. I threw the ball in her court. I told her, 'I've seen you rock the stage in Arrowhead. You might have to see me rock the stage in Arrowhead and see which one is a little more lit.'" Kelce said while he appeared on ESPN's "The Pat McAfee Show" last week adding, "We'll see what happens shortly."
Following the Kansas City Chiefs game, Taylor Swift was spotted leaving with Travis Kelce — and although there was no PDA, the two reportedly grabbed dinner together in an intimate setting. Fans also captured photos of the two driving off into the sunset in a convertible. Kelce is driving the car, with Swift riding a shotgun.
About Author