Would you want to use your insecurities to help create amazing memories in a creative way if possible?
Sarah Elaine, an artist and TikTok creator, found a way to do just that. She decided to use her stretch marks to create paintings that would be just as meaningful and full of memories as it is beautiful to look at.
Sarah Elaine Creates Paintings With Physical Insecurities
In a TikTok video, Sarah shared how she came up with the idea to make her unique artwork with "memories."
"I made a new painting, but this one is different. It's an insecurity and a memory all in one," she said. "I had thought that as I grew older, I would be okay with my body changing and aging. But as time passed from the beginning of my 20s and so on, I felt less sure of that."
She said that when she turned 25, she felt like she "expired." By the time she was headed closer to 30, she watched her body and face age and change. Then a big change happened.
"At age 28, I got pregnant. And I thought, surely as a mom, as a mother, seeing the miracle my body could do, surely that would cause me to love my body," she continued. "But it didn't."
For Sarah, accepting all the changes that were happening wasn't automatic, even though she "loved the life that this change brought." The struggle was still something she dealt with even though she loved all the life around her.
"But changing the idea of who you are and what you see as beautiful takes time," she said. "This isn't one of those tired videos telling you to just love yourself and love your body like somehow that's supposed to happen automatically. Instead, see your body. See your body everywhere."
Sarah then demonstrated how she uses her stretch marks to make artwork.
Sarah continued to explain that the pattern and rhythm to the marks on your skin can be found in many places in nature and they are beautiful.
"So why not see your body in the same way? As a painting," she continued. "Of time. Of nature. Of change. And that is beautiful."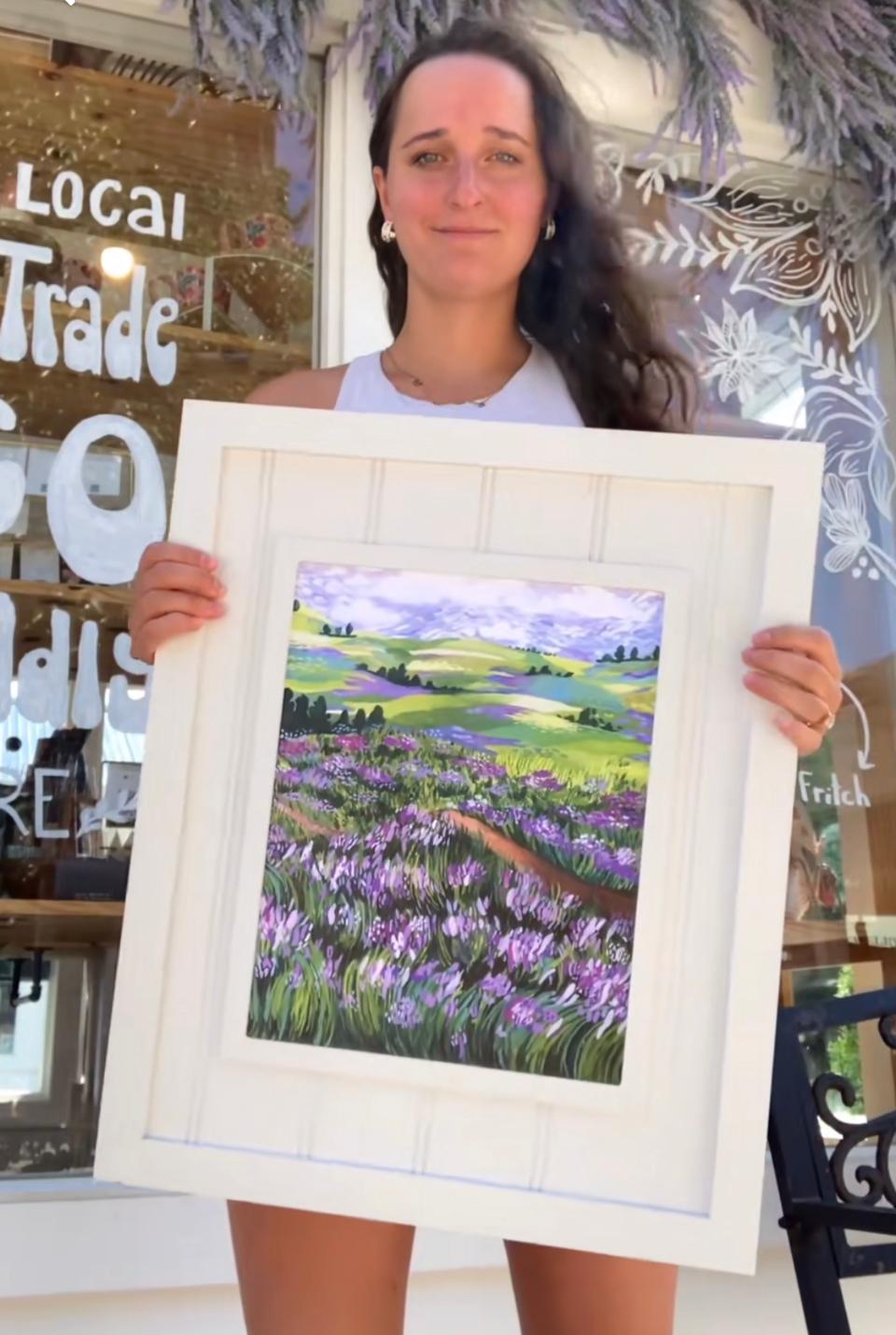 Sarah also shared a second video going into more detail about her unique idea for creating art that holds memories in a different way than other art. She shared some of the process and more of her story.
"Everything started when I found out I was pregnant. As my body grew, stretch marks started to appear," she said. "Although I felt insecure about this, I decided to lean into it and create a pattern based on stretch marks."
Sarah explained that by doing this, she was able to better process how she was feeling and to accept her body and all the changes that were happening.
"I realized these patterns are everywhere in nature," she continued. "They're in the rocks, and in the wood, and the bark of the trees, the water, the sky."
She started by making apparel and then moved on to paintings. And now Sarah wants others to help her create more art with "insecurities."
"I have two ideas. One, I want to do a series of paintings and patterns based on your stretch marks. Second is to use wrinkles, signs of aging, and especially smile lines," she said. "I'm so excited about this idea and I can't wait to get started on it."
For anyone who wants to be a part of Sarah's series, email her a photo.
Viewers Left Positive Thoughts In The Comment Section Of Sarah Elaine's TikTok Videos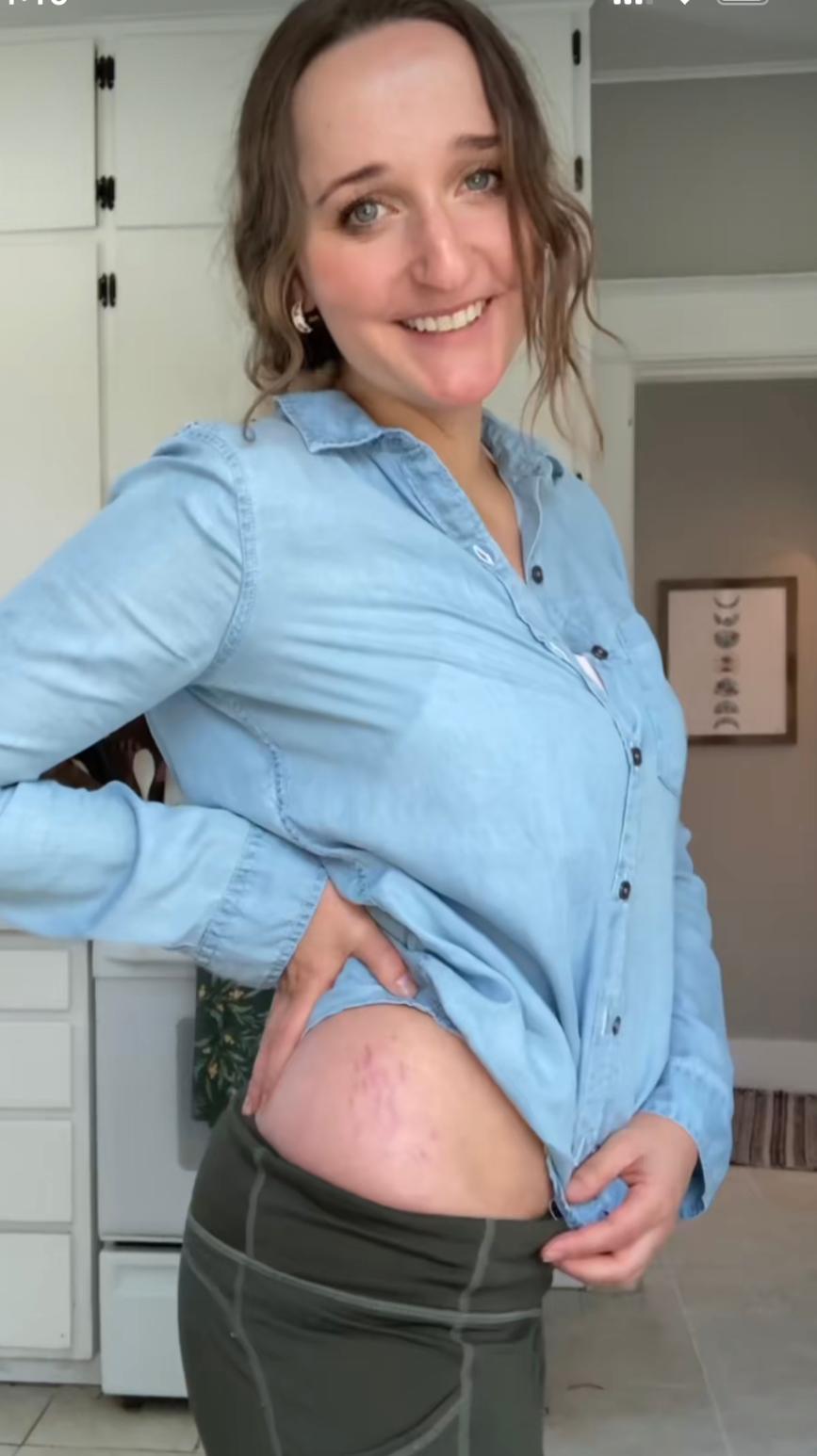 Many of Sarah's TikTok followers and viewers of her videos had positive things to say about her idea in the comment section.
"Very rarely does a Tik Tok leave me speechless. But all I can say is wow. This was beautiful," one viewer said. Another chimed in with, "Never have I compared any stretch marks with nature. I will now. 🥰"
It seems that Sarah's quick but powerful videos have changes many people's perspective on their own insecurities and how they will view them from now on.
"The epiphany that we and nature share the same marks. Brilliant," one viewer wrote. Another added, "This made me sob, thank you for this 💕 beautiful art and an incredible message. This will permanently change my perspective."
Sarah's father even dropped into the comments to share, "As your father, I never been more proud of you sweetheart! This is really special," and her brother added, "As a younger Brother, I've never been more proud of you Sarah. I love you."
About Author