It's gender reveal story time!
Kailyn Lowry wants to come clean about why her first gender reveal wasn't accurate, and it's probably not for the reason many are thinking. While it seemed that maybe she was just having some fun teasing fans about the genders of her twins for days, it appears the confusion has a more scientific excuse.
Kailyn Lowry Shares A Story To Explain The Gender Reveal Confusion
After three gender reveal videos and some confusion on whether she's having two boys or one boy and one girl, the "Teen Mom" alum is explaining why things went down the way they did.
"This is a story time on why we did a gender reveal for twin boys initially, and then had to redo the gender reveal," she began her TikTok video. "So when I first found out I was pregnant with twins, we did the NIPT, non-invasive testing in the beginning."
The blood test was done between 8 and 10 weeks of her pregnancy. Lowry was told that if she is pregnant with boys, the blood test would pick up an XY chromosome. If both babies are girls, then the test "wouldn't show" and you would know that both babies are girls.
"However, when you get the test back, if there are any XY chromosomes, you would assume that they are both boys. I assumed they are both boys," she continued. "So when we did the little gender reveal, we did the whole smoke bomb thing. Unfortunately, that was a complete like, Kail in the chaos, like, couldn't make this s— up. One of the smoke bombs didn't go off."
Lowry then explained that when she got the initial email with the results, which was in her first gender reveal video, it said "boy, but it didn't say boys."
She further explained that on a blood test, if the twins are fraternal, only the boy chromosomes will show up, and she said she wasn't aware of that at first, which is why she assumed both babies are boys.
So When Did Kailyn Lowry Find Out She's Having A Girl?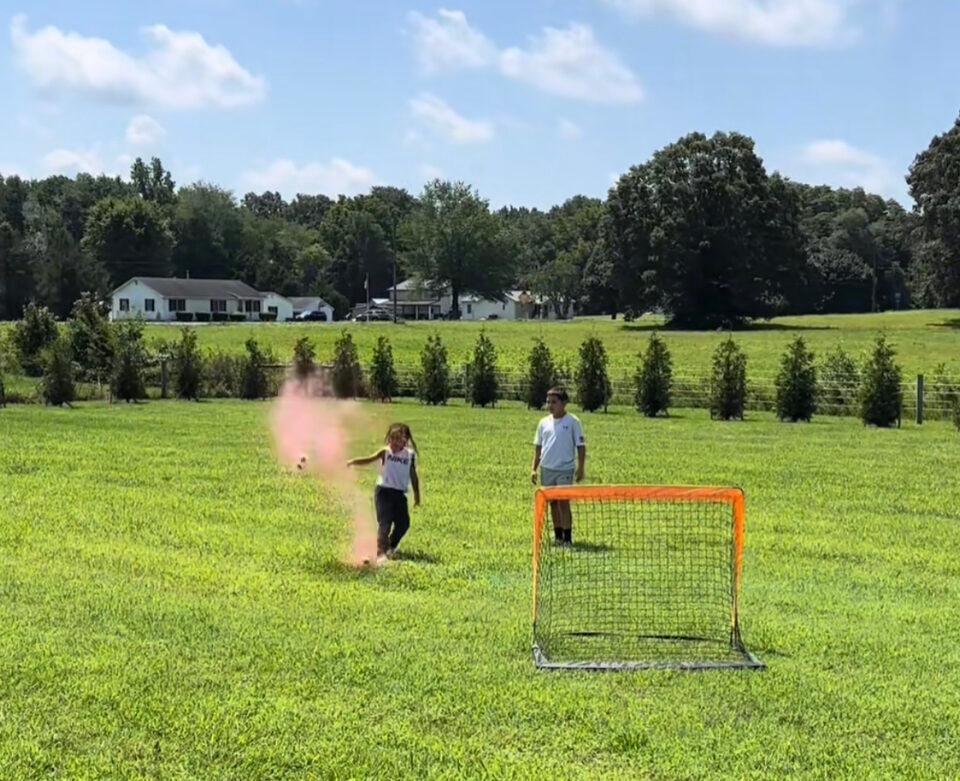 It wasn't until a few weeks later when Lowry had an ultrasound that she found out that one of the babies is in fact a girl. And while the ultrasound tech said it looks like one baby is a girl, it wasn't until her 20-week anatomy scan that she got confirmation that she's about to finally be a girl mom!
She concluded her story video by explaining that they did, in fact, believe both babies were boys in part one and two of her three-part gender reveal video series.
In the third gender reveal video, fans finally get to see that their speculations were correct, and that Lowry was about to welcome her first girl into the family of boys.
In the video where everyone finally gets confirmation that the mom of five – soon to be six – boys is about to welcome her first girl, sons Creed, 3, and Lux, 6, help reveal the sex of the babies.
Creed kicked the first soccer ball that erupted into a cloud of blue smoke. Lux then kicked the second ball, which was the big pink reveal so many people were hoping for.
One fan took to the comments to say, "Lucky number 7," and another added, "6 brothers. That's gonna be one well loved and protected little girl! I am so happy for you! Congrats on both new additions!"
The new baby boy and first girl in the family will be welcomed by baby Rio, Creed, Lux, Lincoln, 9, and Isaac, 13.
About Author