Television personality Matt James loves trying new food and creating new recipes. To make this year's Friendsgiving events a bit easier, he's come up with a recipe for a favorite comfort food made with a popular snack food – Lay's mashed potatoes.
"The Bachelor" star joined forces with Lay's potato chips to create a recipe that easy to make, delicious, and perfect for your upcoming Friendsgiving events.
Matt James Makes Mashed Potatoes With Lay's Potato Chips
To celebrate the upcoming Friendsgiving season, Lay's has teamed up with the reality star to release "Potato Chip to Potato Dish with Matt James," an exclusive cookbook kit featuring a limited-edition Lay's Classic potato chip bag reimagined for the occasion.
James reignited the viral TikTok cooking hack that turns Lay's potato chips into a delicious side dish for Thanksgiving, Friendsgiving or any meal that you would serve mashed potatoes with an easy recipe he came up with himself.
"I enjoy eating, finding new food, finding new recipes, creating new recipes, so much more than most things. I might enjoy sharing those finds more than I enjoy finding them for myself," he told The Blast exclusively.
"When we put together this recipe, I tried to think of the things that brough me joy in the kitchen, especially around the holidays. And a dish like mashed potatoes is something that I feel most people can get behind with how easy it is to make, how complimentary of a dish it is to most things that you're going to serve at the holidays. That's kind of where it started."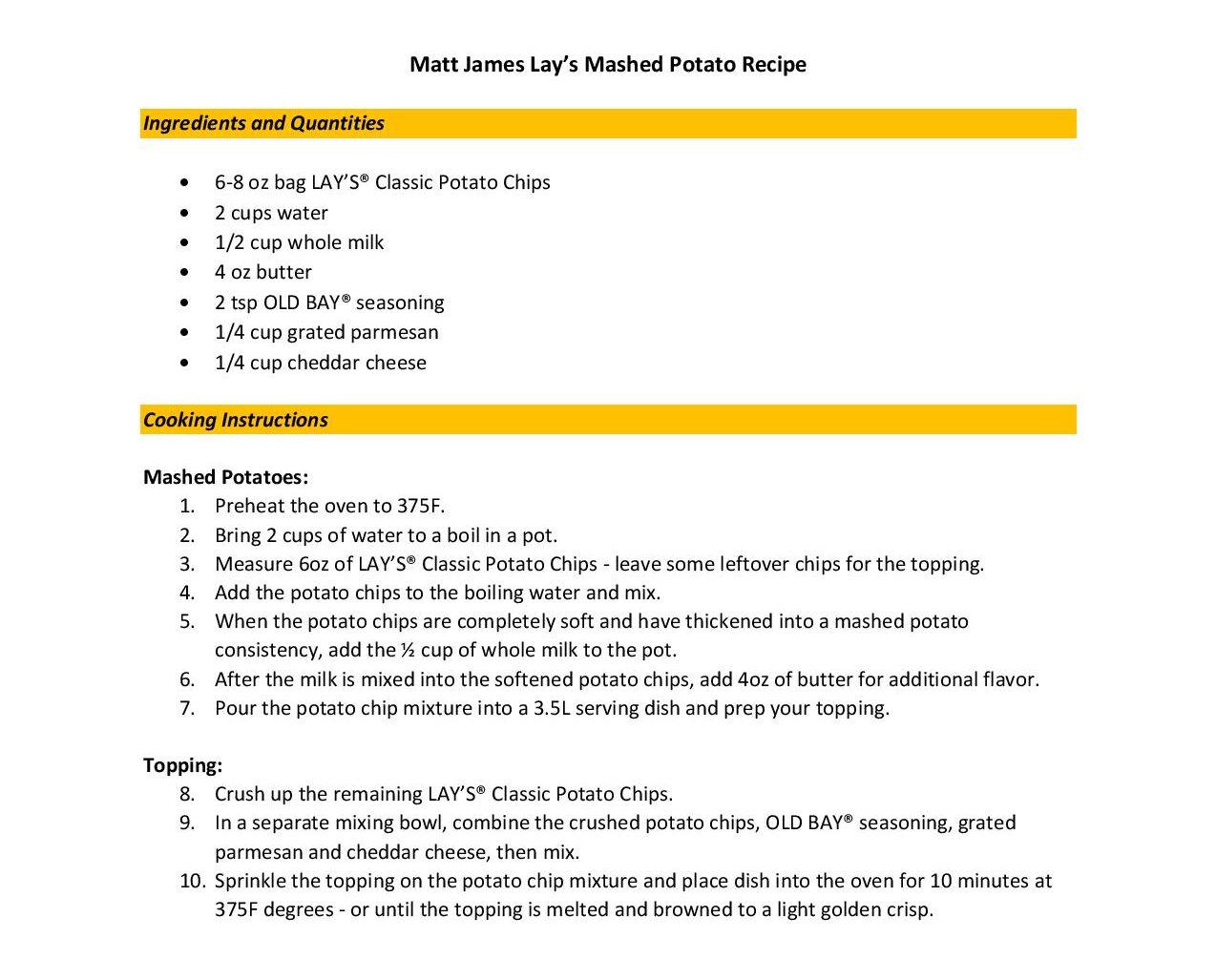 James feels that his mashed potato recipe using Lay's chips is something that can "catch on in most households."
"I don't know how well a cranberry sauce would do or something that's kind of niche that some people might turn their nose up to, but I think most people can get behind mashed potatoes, and especially if they're creating it with a potato chip," he continued. "They had a moment on social where it went pretty viral and people were making mashed potatoes out of potato chips, but I think it's prime for resurgence."
The beauty of the recipe is that Lay's potato chips are made with real potatoes, and James said, "that's why it's fun to watch people try their hand at the recipe and share it." It's also really easy to master. Being a tough critic, James said he wouldn't have "cosigned on something that people would be turned off by."
Matt James Shares Tips For Friendsgiving And A Chance To Win A Friendsgiving Kit
While James said dessert is always a great thing to bring to a Friendsgiving event, he also shared some advice that's really thinking outside the box to help make it easy and fun. Of course, his first suggestion is his Lay's mashed potatoes, but he also suggested just bringing whatever you're best at cooking, even if it's not something traditional.
"Don't let the dress code dictate what you wear," he told The Blast. "If you wanna go to Friendsgiving and you want to bring pizza, or you want to bring tacos, bring your tacos and they're gonna get smacked. Everyone's gonna go for the tacos."
James and Lay's want to give you a chance to win a Friendsgiving kit. Visit Lay's Instagram page for all the details and how to enter.
Contest is open now through November 12, 2023 at 11:59 p.m. ET. Visit the website for the full rules.
Matt James Just Ran In The New York Marathon!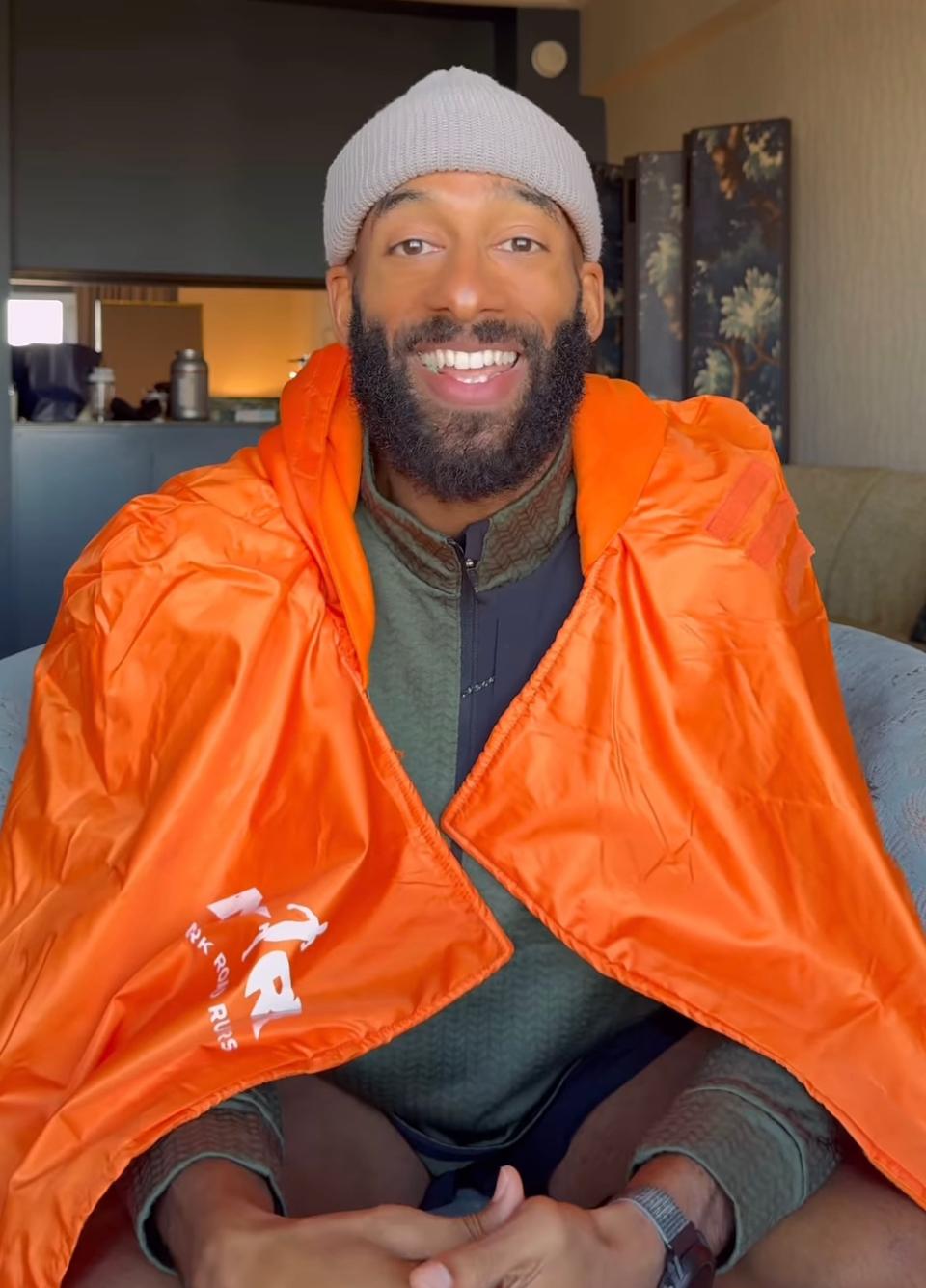 As much as the reality star loves food, he said he doesn't cook as much as many people may think.
"I don't cook as much as you think, but I am a very tough critic. It doesn't really go hand in hand," he said. "I'm the one often critiquing, but I know enough about cooking to know my strengths and weaknesses, so I try to leave the hard labor to the people who are the real talent."
Besides loving food and coming up with new recipes, James is an avid runner. He just ran the New York Marathon last weekend and said, "it's the best day of the year in New York for him."
"As long as I can withstand it, I'm going to try to run it as much as I can. It's so much fun," he told The Blast.
"It's the best day of the year in New York for me. It's the one time in New York where everyone puts their differences aside and complete strangers, and people who have opposite political views and different sexual orientation, like, none of that stuff matters. Everyone's cheering for everyone and it's just a magical time to be in New York. To be a part of that every year, I mean, sign me up."
About Author